Detail Introduction
What is Adhesive Vinyl Roll?
The vinyl adhesive is a permanent, pressure-sensitive adhesive that bonds to many substrates and can be easily removed later. The vinyl adhesive is extremely versatile, and you can use it on almost any surface or material.
Adhesive vinyl roll is a versatile material that can be used for many different applications. It's also known as die-cut vinyl, decal vinyl, or blank vinyl.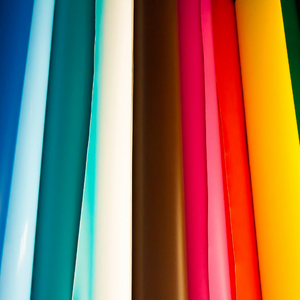 What Are the Different Types of Adhesive Vinyl Rolls?
The following is a brief explanation of the most common types of vinyl rolls:
1. Adhesive vinyl
Adhesive vinyl is a plastic material with a paper backing. It is most commonly used for creating decals, labels, and signs. Again, there are three basic types of adhesive vinyl: calendered, cast, and specialty. The type of vinyl you choose will depend on the project you're working on and your personal preferences.
2. Calendered vinyl
Calendered vinyl is more rigid than cast vinyl, making it ideal for flat surfaces such as walls, cars, and boats. It was also less expensive. If you use calendered vinyl on more complex curves, however, you're likely to see cracks in the material after some time has passed. Calendered vinyl can be used for both indoor and outdoor applications.
3. Cast vinyl
Cast vinyl is a thinner, more flexible material that makes it easier to work with on curved or angled surfaces. This type of vinyl performs better when contoured to complex shapes and offers a longer lifespan than calendered vinyl. Cast vinyl is also a good choice if you want to create detailed designs with intricate cut lines because the material won't shrink over time as calendered vinyl does. One thing to note about cast vinyl is that it takes longer to apply because the adhesive needs more time to set up before removing the transfer tape (the protective paper backing).
What Are the Applications of Adhesive Vinyl Roll?
Adhesive vinyl roll is a thin, flexible, and durable material that is used for a variety of applications. The material comes in many different colors, making it possible to create any design you like. The rolls are usually used for wrapping objects, but they can also be used for other purposes.
Here are some of the more common uses for adhesive vinyl roll:
Wrapping Objects
Vinyl rolls can be used to wrap objects such as cars and boats. This makes them very popular among people who want to customize the look of their vehicles. They can also be used to wrap other types of objects such as furniture or even windows and doors.
Creating Signs
Adhesive vinyl roll is often used by businesses to create signs that they display on their windows or doors. These signs can advertise sales or specials that are available at the store. They may also provide directions to certain areas within the store or let customers know how long they must wait before they can get help from an employee there.
Decorating Walls
One way that people use adhesive vinyl roll is by applying it directly onto their walls so that it covers up large portions of them at once. This allows them to change up the look of their home without having to paint everything first.
How to Choose Adhesive Vinyl Roll?
A variety of colors and types are available including permanent, removable, and reflective. The permanent adhesive vinyl is designed for long-term applications. This material will not peel off with weathering or general use. It's a good choice when you want the sign to last a long time without needing replacement. One thing to remember about permanent adhesive vinyl though is that it cannot be repositioned after it has been applied. Removable adhesive vinyl can be used for both temporary and long-term applications because it can be removed without leaving behind any residue or damaging the surface on which it has been applied. You can even move this type of vinyl around while applying to get perfect placement before sticking it down permanently.
What Are the Differences Among Various Adhesive Vinyl Rolls?
Adhesive vinyl rolls are used for many different projects. You can use vinyl to create signs, banners, and decals. There are multiple types of vinyl rolls available on the market, each with its own specific qualities and uses.
Permanent adhesive vinyl is a popular option. This type of vinyl is used primarily for outdoor signage and decals.
Another common choice is removable adhesive vinyl. The main difference between this material and permanent vinyl is that you can remove it from most surfaces without causing any damage to the area underneath.
Removable adhesive vinyl works well for temporary signage, like store specials or holiday promotions, but it does not last as long as permanent vinyl.
How to Cut the Adhesive Vinyl Roll?
The best way to cut the vinyl is with a pair of scissors. Simply slide the cutting blades between the backing and vinyl, then cut through both. If you are worried about damaging the vinyl, cut only the backing. Then place the vinyl on a flat surface, place a ruler along one edge and use a utility knife to cut through it. You can also buy a roll of craft paper and use that as a guide to cut your vinyl.
How to Store the Adhesive Vinyl Roll?
After you finish your project, you will want to store your vinyl rolls so they are ready to use again. Here is how to store adhesive vinyl rolls properly:
Rolls should be placed in a cool and dry place, at room temperature.
2. If possible, store the flexible roll on a flat, even surface.
3. Do not stack rolls on top of each other without protective wrapping between them (like a piece of paper or cardboard). This will help prevent damage to the surface of the vinyl.
4. To ensure that the adhesive side does not stick to itself or another roll, wrap the roll in paper or cardboard before stacking it with other rolls.
Did not find the product type of Adhesive Vinyl Rolls you need?
or if you have any questions, you can contact our customer service or leave us a message.